Lansing Parking Lot Paving | Asphalt Parking Lots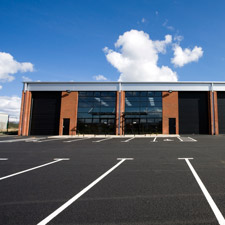 While most people do not get excited about asphalt parking lots – business owners know that their parking area can impact a customer's attitude before they even walk through the door.
The Lansing asphalt parking lot experts at American Asphalt specialize in asphalt parking lot paving, as well as maintenance and repair of asphalt surfaces, curbs, drains and other surfaces.
Our professional asphalt parking lot contractors know that proper installation and maintenance of your parking area remains vital to extending the life of the surface — and to the success of your business. Whether you own an apartment complex, a retail center or a municipality, a well-maintained asphalt parking lot can add curb appeal to your property while minimizing the risk of accidental injuries.
American Asphalt specializes in asphalt parking lot paving and maintenance and repair of asphalt surfaces, curbs, drains and other surfaces. Our asphalt professionals also excel at sealcoating and crack filling — which can extend your pavement's lifespan and reduce the cost of replacing your parking area.
Schools, strip malls, retails centers, churches and industrial facilities have all benefited from the asphalt parking lot paving services offered by American Asphalt. If your asphalt parking lot pavement needs replacement or resurfacing, our Lansing asphalt company has the right equipment and expert staff to minimize the cost and inconvenience of replacing your parking lot.
Our parking lot paving experts can schedule your work in stages to maintain open access throughout the entire project – and will also ensure that all projects are completed properly and on time.
For more information on how American Asphalt's professional asphalt parking lot paving contractors can improve the curb appeal of your business, contact us today or call us directly at 517.484.0260.