Lansing Commercial Asphalt | Lansing, Jackson & Mid Michigan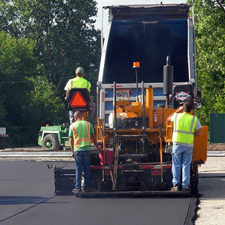 American Asphalt, based in Lansing Michigan, is a commercial asphalt paving company providing commercial asphalt services throughout Mid Michigan, Jackson and the greater Lansing area. We are able to offer a wide range of asphalt services no matter what the size – small or large! American Asphalt's staff is dedicated to the paving, preservation, and repair of your, parking lot, industrial or commercial complex and roads. Our Lansing Commercial Asphalt Company offers paving services to all local governments for subdivisions, city streets, and large roads. We are also qualified to work for the State of Michigan on all asphalt paving projects. We strive to offer the highest quality, long lasting asphalt product for an affordable cost to our customer, with a great attention to detail.
We have the experience and professional staff to handle your commercial asphalt project. American Asphalt works with commercial builders, residential builders, contractors, municipalities, governments, management companies and more to provide all commercial asphalt paving, repair, and maintenance services. From Commercial parking lots, sidewalks to roads, we provide reliable, quality asphalt services to commercial clients on time, and on budget.
American Asphalt is an industry leader in commercial asphalt service. For Asphalt Paving in Mid Michigan, including, Lansing, East Lansing, Jackson MI, Okemos, Holt, St. Johns, Charlotte MI, Dewitt and all other greater Lansing and Mid Michigan cities, contact us at 517.484.0260.