Lansing Sealcoating | Asphalt Sealcoating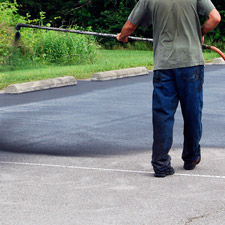 Asphalt sealcoating remains a cost-effective and reliable option for protecting and maintaining the life of the asphalt surfaces around your home or business. Sealing your pavement will not only protect your investment, but will make your asphalt look brand new, help the surface to resist oil, gasoline and other chemicals and extend the life of your parking lot, roadway or street.
Using a asphalt sealcoating mix, our expert technicians can restore your parking lot, road, street or other surface — almost to its original condition. Using a special machine applicator this extra thick material contains a very large amount of sand but can be applied in a single pass while it is being mixed.
The Lansing asphalt sealcoating technicians at American Asphalt know from experience that completely replacing your driveway, parking lot or road is not always an option. Fortunately, our asphalt sealcoating professionals can help you preserve the look, function and longevity of your asphalt surface without the costs of full replacement. Regular sealcoating of your pavement or existing asphalt surface will save you hundreds or even thousands of dollars in repairs and resurfacing costs.
For more information on how American Asphalt's professional asphalt sealcoating contractors can improve the curb appeal of your business, contact us today or call us directly at 517.484.0260.