Lansing Asphalt Street Imprinting And Coloring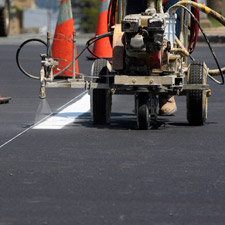 Today's advanced asphalt imprinting technology allows American Asphalt to provide customers with a wide range of decorative street, road and parking lot options that save time, money and produce great looking results.
Our street imprinting and coloring technicians can install a multitude of stenciled patterns on your existing asphalt if it is in good condition — helping you to avoid costly pavement removal.
Using StreetPrint's patented technology and proven application process, American Asphalt can create realistic-looking brick, slate, stone or other design effects directly on your asphalt surface. The installation is also much quicker, more durable, less labor intensive and more affordable than hand laid bricks.
Thanks to asphalt's unbroken surface — which inhibits weed growth, erosion and shifting from ice, thaw and vehicle movement — imprinting or stenciling on your existing asphalt surface remains a more beneficial option than installing brick or stamped concrete. In addition, our stenciled asphalt or imprinted asphalt coloring will last longer than most other options, as the lack of joints or seams prevents shifting, weed growth and damage from snowplows and street cleaners.
For more information on how American Asphalt's professional asphalt street imprinting and coloring experts can improve the look of your business, contact us today or call us directly at 517.484.0260.